Simple (But Highly Effective) Closet Organizing Ideas
[email protected]
A closet organization system provides a spot for everything you need to store, from suits and dresses, to
jewelry and scarves, to socks and bathing suits. But figuring out an organization strategy can help you
keep your closet looking its best and streamline your getting-ready process.
You could put everything on hangers and shelves and call it done. But storing clothes with some
forethought makes getting ready easier, prevents wrinkles and keeps all of your clothing in good
condition.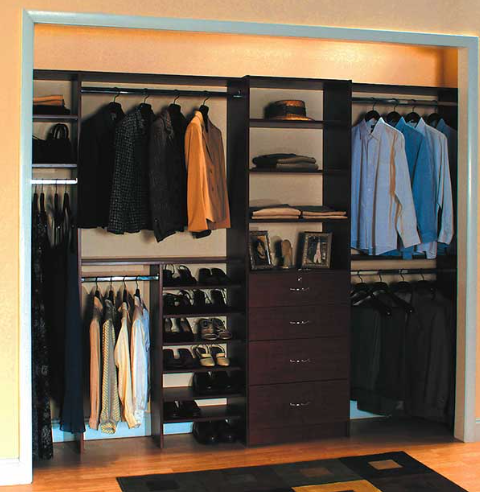 Closet Design Ideas
Find an Organization Method
There's no single best or "correct" way to organize your closet. Some people prefer to hang shirts
according to color and then by sleeve length. And some like the aesthetic of hanging clothes in similar
groups by length, with shorter pieces on one end of a rod and longer pieces, such as dresses, on the
opposite end. The key is to find a method that works for you—it'll help you stay organized over time.
Here are a few possibilities:
Make a rainbow with all blues, yellows, reds and other colors in groups.
Organize in sections by style: casual, business, dressy and formal wear.
Group in zones by type, such as slacks, blouses, button-downs, jackets, dresses and skirts.
Reserve everyday clothing for the front and center and move items you wear less often to the perimeter
of the closet.
Review Your Closet Often
If your closet is well-organized, you likely have more room for more clothing—a pro, to be sure. But that
also means it's easier to keep things you don't wear all the time. Take stock of what's in your closet
regularly and donate, sell or throw out what you no longer wear.
Use the Right Hangers
A great closet is only as good as the hangers that keep your clothing in place. Everything looks nicer if
you use the same type of clothes hanger throughout the space. Be sure to choose something sturdy,
whether it's heavy plastic, wood or metal. And space your hangers one to two inches apart to give your
clothes room to breathe. Finally, ditch those wire hangers from the dry cleaners—they're too thin and
won't support the weight of your clothes over time.
Perfect Folding and Hanging Techniques
There's no single best way to fold or hang clothes. But if you perfect the methods that work for you,
your clothing will look neater, and you could even cut down on ironing time. A folding board like the
ones used in department stores takes all of the guesswork out of folding T-shirts and other tops that you
might not want to hang. A faster way, and one that works perfectly every time, is the pinch and fold
method demonstrated in this video by Real Simple.
Button-up garments, such as dress shirts and blouses, hang better and stay in shape if you fasten the top
button and then every other button all the way down. For other tops and dresses, slip the hanger inside
from the bottom—not through the neck—to prevent stretching out the neckline and shoulders. Fold
pants carefully over a hanger to minimize wrinkles—or hang them by the hem or cuff.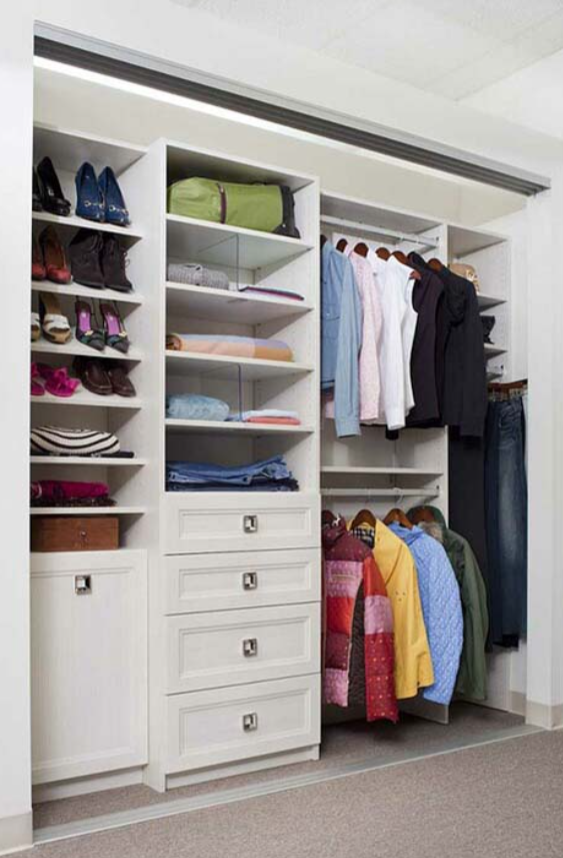 A great closet organization system gives you a smart platform, but it's up to you to put things away. How
you approach that determines your ease of getting ready for the day and the long-term condition of
your clothes. It can also conserve space inside the closet.