Closet Cabinetry Customized For Your Special Project
[email protected]
Some people who have an interest in closet organization want something more sophisticated, in a
design sense, than simple shelving and hanging sections. Quite often, and especially in large walk-in
closets, custom closet cabinetry is a very desirable option. An experienced and technically capable
custom closet company can produce unique designs that address the wants and needs of a particular
client. Truly custom solutions for varied or unusual requirements may eclipse the scope of readily
available cabinetry. Standard cabinets may function well in some applications, but not necessarily in a
closet environment.
In addition to interesting and highly specific functionality, a well-designed custom cabinetry solution will
afford many alternatives for materials. The diverse collection of options includes latest high gloss and a
wide selection of beautiful and interesting patterns and wood grains, with finishes and textures that
create a statement all on their own.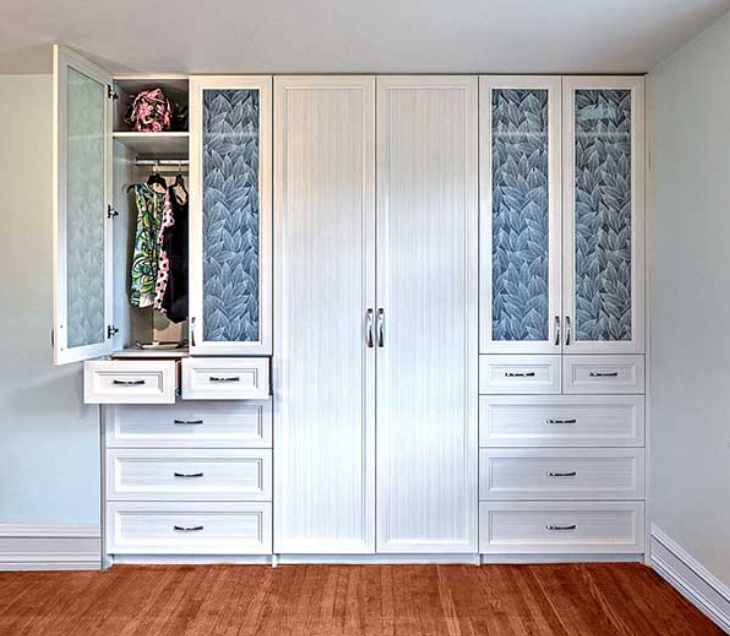 Creating Excellent Closet Cabinetry
To create an exceptional closet environment is as much an exercise in aesthetic design as it is of creating
pragmatic storage and functionality. Neither discipline can be minimized at the expense of the other,
and that balancing act is the essence of making a project truly successful. The process is, at first glance,
similar to the steps that a responsible company takes to design a more standard, less custom closet. The
journey begins with questions; lots and lots of questions. Not only what, how many, where and how, but
much more pointed queries that delve into significantly greater detail to arrive at a plan that
incorporates clever, useful solutions and also reveal a true aesthetic reflection of the client's tastes,
preferences and personal sense of style.
Think not so much about a closet, but more of a personal boutique or a private, personal hide-away
where one can reflect, relax, plan, and dream.
So Many Closet Design And Style Possibilities
The possibilities are almost limitless. There are many areas to be considered and decisions to be made
to arrive at a finished product that exceeds expectations. In one sense, it's all about choices.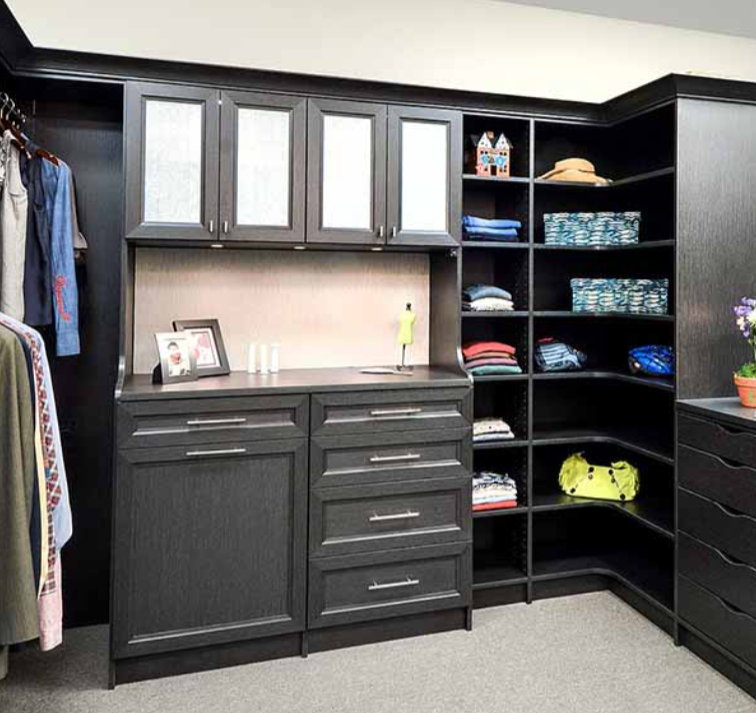 Our Designers are experts determining the placement of each section so that it is as practical as it is
beautiful. A good design will flow and be based upon your individual routines and customs and makes
them effortless. What you want, where you want it, displayed beautifully with everything fitting together in a picture that melds form and function. That is only the first, albeit, the most significant
aspect of a great custom design.
Then, after we know the practical elements, we turn to design choices. The look, the materials, the
colors and the style of the cabinets down to the most specific details are critical. Will you choose cool
and contemporary with smooth, sleek lines and slab doors and drawer fronts? Or more detailed,
classically traditional design elements to create your space? Or even regal? Should everything be
displayed in a more open manner, or should everything be behind doors and in drawers waiting to be
opened for your inspection?
What kind of hardware do you like? What kind of lighting will make your special place more inviting?
What is the mood you want to create in your sanctuary every day, and how can it enhance your
experience to the max?
There are many roads that can be traveled to arrive at your personal closet aspiration, and the journey
can be as enjoyable and exciting as the ultimate solution. To be the best it can be, all it takes is some
time, imagination and your full expression of what would make you most happy and satisfied with your
creation.
To see all of the available color and design options, we recommend you visit our showroom. We can
answer any questions you have and schedule a free, in-home consultation with one of our experienced
Designers.