Turning your Garage into a "Man Cave"
resultsbuilder
It's that time of year again to decide on the perfect gift to give for Father's Day. You want to give him the best gift yet, and Top Drawer has you covered with one he will never forget. We are not talking about a monogrammed briefcase or a 6-pack of beer. Instead, we're talking about something that will truly knock his socks off: a man cave!
We know a garage is typically for vehicles, bikes, tools, and other storage items, but we've come up with a better idea by turning it into the ultimate "dad destination!" Your dad needs space and time for himself, and the garage is the perfect spot to incorporate both. Instead of building a new addition onto the house, choose the less expensive route by converting the garage into a space he can call his own.
Before you begin the garage renovation, you need to come up with a plan on what to include in this space. Whether a workshop, bar area, or TV lounge, thinking about storage areas, wall cabinets, and furniture pieces are a few items to keep in mind. The two most important items to consider are the cabinets and storage spaces, ensuring that all the items kept in the garage are neatly organized.
Top Drawer has different options for wall cabinets to fit the space, ultimately helping create a unique design and perfect garage storage solution. You can choose the color option of the cabinets based on the style of the home so it not only matches its exterior, but your dad's personality as well. Whether you are looking for black, white, espresso, wild apple, or chocolate pear cabinet colors, we've got you covered.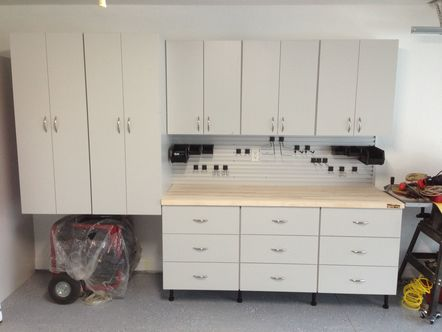 Don't forget about the different storage options! When cleaning out the garage to build the ultimate gift, you need to have a space to put everything. Storage solutions from Top Drawer helps keep everything tidy so the room isn't cluttered, and the bar and TV you've been dreaming about getting have enough room when converting the garage space. It's the best home organization tool to incorporate without taking away from the look and feel of the man cave.
Once the plan is in place for what items are going into the space and how, you are ready to begin building out the perfect gift for dad – giving him the garage upgrade he's always dreamed of, a place to relax, and a space to enjoy his favorite activities! We promise he won't forget it.
To amplify or transform your garage space into the ultimate man cave, get in touch with the experts at Top Drawer. Our storage systems, design concepts, and installation processes are all unique to your wants and specifications. Make this the best Father's Day yet by calling us at 386-761-8775 today!